Singapore Airlines vs Etihad Airways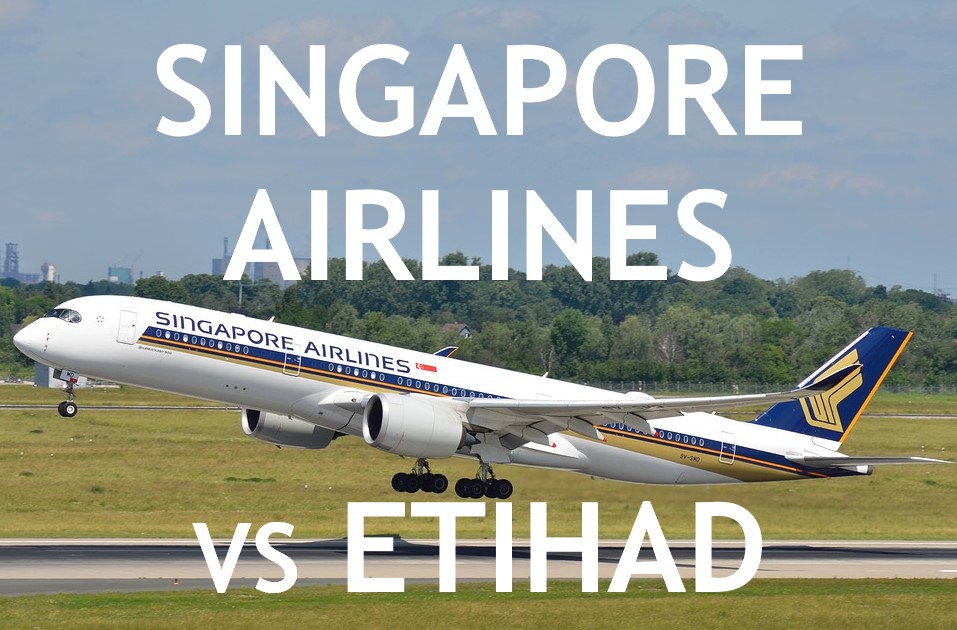 Singapore Airlines and Etihad Airways provide some of the best travelling experiences. These leading airlines connect travellers to destinations in five continents. While both airlines offer superior services, there are differences when you compare key features.
Inflight services
Economy
On long-haul flights, Etihad Economy boasts comfortable headrests and adjustable back support. Short-haul seating focuses on technology with USB charging points and adjustable holders for mobile devices. For a roomier flight, there is Economy Space. Economy Neighbour-Free allows travellers to book an entire row for added privacy. Travellers enjoy complimentary meals, while E-BOX offers hundreds of hours of on-demand entertainment and live TV.
Singapore Airlines' Economy Class offers plenty of personal space. Extra Legroom Seats offer a roomier travel experience. Free meals are served and there are over 1,800 options on the KrisWorld entertainment system. Seats are designed with adjustable headrests, stowage areas for devices, and power outlets. Unlike Etihad, Singapore offers Premium Economy in a dedicated cabin. Along with added comort, there is also an enhanced meal service.
Business
Etihad Business offers extra privacy and space. Long-haul seating features fully flat beds. Travellers are treated to three-course meals and chic amenity kits. Leather-covered seats are 22-inches wide and include an 18-inch monitor. Passengers also have access to a chauffeur service.
Singapore's Business Class also features seats that transform into lie-flat beds. On long-haul flights leather seats are 30 inches wide, while regional flights offer seating with up to 26 inches in width. Dividers offer privacy and there are touchscreen HD monitors. World cuisine is served on fine porcelain. Luxurious amenities kits plus slippers and eyeshades are provided on longer flights.
First
Etihad First delivery luxury with a chauffeur service and access to the Etihad First Lounge. On board, there is an à la carte menu and spacious accommodations. On Boeing 787s, suites features a 26-inch wide chair that transforms into a fully flat bed. There is a dining table, 24-inch TV, personal wardrobe, and sliding doors.
Etihad's First Apartment on Airbus A380s boasts a 30.3-inch wide chair that converts into a bed. There is a vanity cabinet and even a mini bar. A380s also feature The Residence, which accommodates up to two people and includes a private living room, bedroom, and bathroom.
Singapore's First Class offers more space than Etihad. Available on Boeing 777 aircraft, hand-stitched leather seats cradle your body. Seats are 35 inches wide and convert into a fully flat bed. There is adjustable mood lighting and a 24-inch monitor. In-flight dining feels like a restaurant experience with meals created by renowned chefs.
On Airbus A380s, Singapore Airlines' Suites are beautifully designed spaces. There is a leather seat that reclines and swivels plus a comfortable bed. Double Suites are available for two passengers. Suites include a 32-inch monitor with enhanced entertainment, a wardrobe, and a sit-down vanity with luxurious toiletries.
Etihad Airways and Singapore Airlines' network
Based in Abu Dhabi, Etihad Airways flies to over 80 destinations from its base in the United Arab Emirates. These destinations are found in the Middle East, Europe, Africa, Asia, North America, and Australia.
Singapore Airlines operates flights to more than 130 destinations on five continents. Like Etihad, the airline does not fly to South America. A member of the Star Alliance, the global airline is based at the award-winning Singapore Changi Airport. It also has several subsidiaries, including SilkAir and Scoot.
Industry reputation
Singapore Airlines is consistently recognised as one of the world's best airlines. Skytrax ranked it as the world's best four times and certifies the carrier as a 5-Star Airline. Singapore Airlines also ranked at the top of Travel & Leisure's best airline rankings for over 20 years.
In its 2019 World Airline Awards, Skytrax ranked Singapore Airlines second in the world thanks to its young fleet and respected brand. Skytrax also recognised its cabin crews as the world's best in 2019. Etihad Airways ranked as the 29th best airline, a drop from 15th place in 2018. Skytrax certifies Etihad as a 4-Star Airline.
Etihad Airways vs Singapore Airlines – The verdict
Etihad and Singapore offer exceptional travel experiences, particularly for Business and First class travellers. Two things distinguish these leading airlines. Singapore Airlines' network is more extensive and its Star Alliance membership offers passengers thousands of destinations with seamless connections. Singapore also has a stronger reputation for the quality of its product and service.