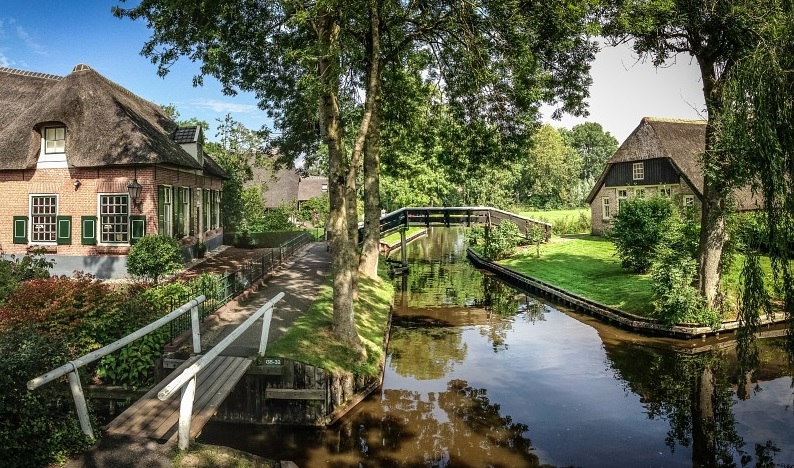 Enter a peaceful world on your day trip to Giethoorn
If you're ready to take a break from your busy touring around the Netherlands, it's time to take a day off, and do nothing but relax in the serene and scenic village of Giethoorn.
What people love to call Giethoorn
Giethoorn has been labelled with an assortment of names, such as
Dutch Venice
and the
Village Without Roads
. However, Giethoorn does not really resemble Venice. It has its own special charm. As for the lack of roads, this appellation is accurate when describing the centre of the village. However, cars can enter a little further away, allowing you to park not too far from the centre of things.
It's the adjectives that are used to describe Giethoorn that truly reflect its character:
adorable
,
as-cute-as-can-be
, and
peaceful
.
Why is Giethoorn so cute and adorable?
It's the picturesque homes with the thatched roofs. It's the many canals that you can navigate on your own in a rented whisper boat. It's the quaint bridges that seem to be the only way (besides boats) that residents can reach their storybook homes.
Giethoorn is a place to go to unwind. What can be more peaceful than a relaxing boat ride with scenery that can only be pleasing to the eye. Feeling a little hungry? Stop off at one of the canal-side restaurants to enjoy both the food and the view.
How to reach Giethoorn from Amsterdam
By car
It takes approximately 1.5 hours to get to Giethoorn from Amsterdam if you drive. Free parking is available in a parking lot at Beulakerweg 135. It's just a short walk from there to the centre of the village. Car rentals give you the flexibility of visiting surrounding attractions, such as the amazing Weerribben-Wieden National Park, famed for its expansive peat bog, which has evolved into nature at its best.Let someone else drive you. Choose an eight-hour excursion with a private tour guide. This option has many advantages working in your favour. Meals are not included, but you do get to choose where you want to spend your culinary pennies!
Train and bus combo
Take the train from Amsterdam Central Station to Steenwijk. Then, hop onto the number 70 bus to Giethoorn. The journey takes about two hours, but you may have to transfer trains more than once.
Bus tours
Travel in a tour bus, then enjoy all there is to appreciate in Giethoorn, including a guided one-hour boat tour. The ideal day trip to Giethoorn, like the Get Your Guide tour, takes eight or nine hours.
If you go
July and August are high-season tourist months. You may bump into other whisper boats in the canals! Prepare to photoshop your camera shots to remove the distractions of other visitors to Giethoorn! Staying overnight is the best way to avoid the crowds, which thin out after 6:00 PM. Then relax at your own leisure before they return at around 10:00 AM, the next day.