Dutch countryside tours from Amsterdam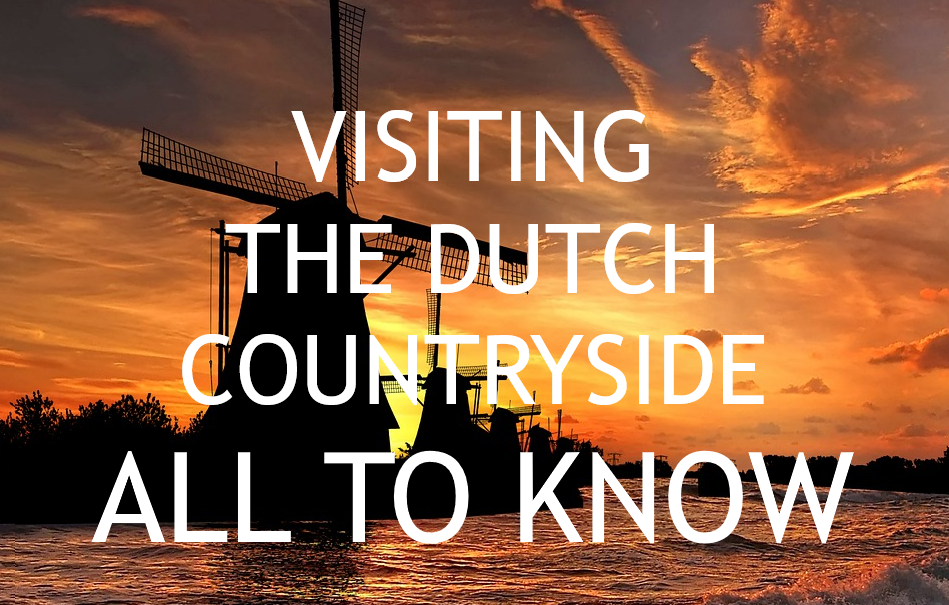 The Dutch countryside is different to the countryside in most other countries, in that there are no hills or mountains here. Instead, it is a vast terrain consisting of many canals and other waterways, which are used to pump water from the mainland.
However, the countryside is covered with lush, green vegetation, plenty of exceptionally beautiful windmills, small, picturesque villages with beautifully decorated houses, and offers an atmosphere of complete peace and quiet.
There are numerous Dutch countryside tour options to choose from, whether you want to walk, drive, cycle, or sail along the canals, so you are sure to find one that suits your specific tastes perfectly.
Just 4 of these countryside tours include:
1. Amsterdam Dutch countryside sightseeing tours for small groups
This is a small, personal group tour consisting of no more than 20 people, that takes you through the Volendam fishing harbour, lets you explore the famous windmills of Zaanse Schans, and takes you to a family farm to experience a variety of genuine Dutch cheese.
Included in this tour, is the chance to visit a shoe workshop where you can watch how wooden clogs are made, and even buy a pair to take home with you!
You also get to visit and explore magnificent buildings dating back to the 17th and 18th centuries and pass through the remote villages of Monnickendam, Edam, and Briek in Waterland.
A marvellous tour that will leave you with wonderful, lifelong memories!
2. Dutch countryside private, full-day tour by luxury car
With this full-day, guided tour from Amsterdam, you get to explore the beautiful Dutch countryside from the comfort of a luxury car, visit Zaanse Schans, and see first-hand, the traditional way that the Dutch make wooden shoes and cheese.
This tour gives you the opportunity to go inside windmills and watch how the products were made about 150 to 200 years ago!
You also get to visit a diamond shop, where you will discover how windmills were used many years ago, to produce dyes in the oil and timber industries.
You also get to take a walking tour across ancient drawbridges, stand at the lock that is used to save the town from being flooded, and enjoy a 20-minute ride to Marken Island where you get to explore its quaint streets.
This is a wonderful tour, where you even get the opportunity to sample tasty Dutch dishes like herring-filled pancakes!
3. See the countryside of Holland by Electric Scooter
This 1-day tour on an electric scooter is of the best ways, for those who prefer to do things solo, to explore the fabulous countryside of Holland. . With this tour, you get to decide when you want to get started, where you want to stop, and how long you want to spend exploring each of the many attractions.
The tour (there are five routes in all), begins in the small village of Landsmeer, situated just above Amsterdam (it will take you about 20 minutes to get there from Amsterdam, by bus, car, or taxi.
Apart from experiencing the beautiful Dutch countryside as you make your way along the roads on your rental scooter, you will also see and visit numerous windmills, Zaanse Schans, stop at museums, clog factories, cheese farms, and much more!
Do note though, that this tour is not suitable for those who are not familiar with riding scooters.
4. From Amsterdam: Private Giethoorn Tour by Car
With this tour, you get to visit many of the historical and social landmarks of Giethoorn and discover why people refer to this area as the "Venice of the North." You travel in style from Amsterdam to Giethoorn, driven by a professional driver/guide, in the comfort of a private, luxury vehicle.
After being picked up at your accommodation in Amsterdam, you get to discuss your itinerary for the day with your driver, after which your Dutch countryside adventure begins!
The drive to the scenic village of Giethoorn takes about 1.5 hours, and you travel through a typical Dutch polder landscape. The village itself is casual and there is no other way to get around it other than by foot or boat.
A short walking tour will give you the opportunity to see some of Giethoorn's highlights, after which you can enjoy a pleasant 1-hour cruise along the canals.
Apart from the picturesque villages, you also get to walk around and enjoy the fairy-tale village of Hassel.
In short, this tour is an entire day of adventure and an absolute must-do during your visit to Holland!
Did you find it helpful? Help us out and give us some social love
 Thank you