Cheap and good budget hotels in Haarlem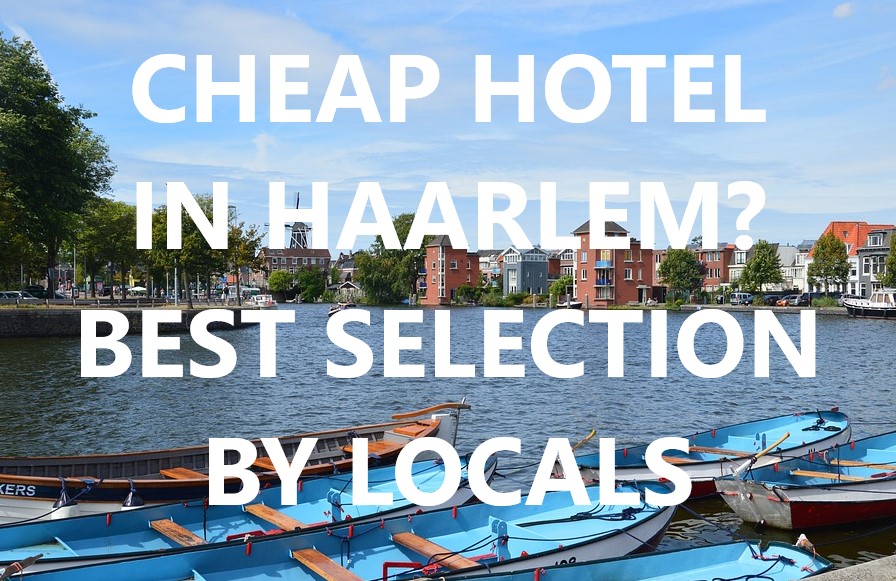 Haarlem is one of the most beautiful and romantic cities of the Netherlands. It is located at a 20 minute train ride from Amsterdam Schiphol Airport and is a perfect place to stay if you want to discover the Amsterdam Area or the Dutch Coast since it is very close to the beach.
Haarlem has a beautiful city center with a lot of history, so even if you don't want to leave the city itself, you will have plenty of things to discover.
The city center will remind you of a Amsterdam. Haarlem also has the lovely canals but is far less touristic. Want to visit this dynamic city and are you looking for a place to stay? Look no further! We made a list of the top 5 cheap and good budget hotels in the city!
Best selection by locals of cheap hotels in Haarlem
Cheap hotel No. 1 – Joops City Centre Hotel – €50,- to €70,- a night
Joops City Centre Hotel is located in the city center of Haarlem and is at a walking distance of the Grote Markt (the Central Market Square). The hotel is part of the Ambassador City Centre Hotel.
It is a hotel in an apartment style where the rooms are more spacious than in a regular hotel and all come with their own kitchenette and ensuite bathroom. All rooms also have a red sofa to kick back and relax and watch some telly after a long day of exploring the city.
Cheap Haarlem hotel No. 2 – Stadsvilla Parkhage – €45,- to €90,- a night
Stadsvilla Parkhage is a very beautiful townhouse in the city center with 10 rooms. All rooms are incredibly chique and beautifully decorated. If you are looking for a luxury stay for an affordable price, this is the place for you. Also if you are looking for a long term stay we promise you that it will not get better than Stadsvilla Parkhage.
All the rooms in the venue feel like a home away from home. All rooms come with a sofa, ensuite bathroom and a small kitchenette. Some rooms also offer a desk area where you can work, perfect for business travelers.
Cheap Haarlem hotel No. 3 – Pension Park 43 – €55,- to €85,- a night
Pension Park 43 is located just outside the city center but is very easily to reach by public transportation (the bus). You can also rent bikes at the hotel to explore the city. The hotel offers 14 rooms and they all come with their own kitchen and ensuite bathroom.
WiFi is included in the price and you can also arrange your airport pick up from the hotel to Amsterdam Schiphol Airport and the other way around. The pension also has a very large private terrace, perfect for those warm summer nights!
Cheap hotel No. 4 – Haarlem 49 – €60,- to €110,- a night
Haarlem 49 is a cute bed and breakfast in the North of the city of Haarlem. You can reach the city center with a bus ride of 15 minutes. The b&b offers 15 rooms and they all have their own theme. This b&b is perfect for a friend getaway or business travelers.
All rooms come with a flatscreen tv, a double bed, free WiFi and an ensuite bathroom. In their garden they also have a small pool where you can take a dip and cool off during the summer.
Cheap hotel in Haarlem No. 5 Hostel Hello I'm Local – €35,- to €80,- a night
Boutique hostel Hello I'm Local is an amazing new addition to the hotel and hostel life in Haarlem. It has opened its doors in 2019 and is already a huge hit amongst travelers because it caters to so many different type of travelers.
Are you traveling alone, with your partner or your family? No worries, there is room for everyone! The hostel offers dorm rooms with several bunkbeds where you share your room with other travelers but you can also chose a private room for two or four guests.
Most of the rooms have shared bathroom facilities, only the family rooms have an ensuite bathroom. The hostel also has its own common area with a big terrace attached to it. Perfect to work a bit from your laptop or to relax after a day of exploring.