Flight time from London Gatwick (LGW) to Amsterdam (AMS)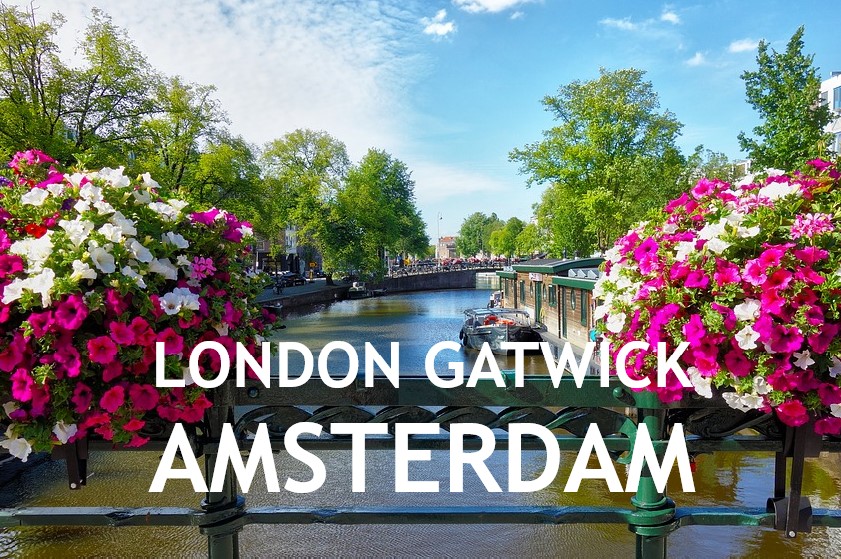 Located south of London, Gatwick Airport (LGW) is the second busiest airport in the United Kingdom. The major airport is located near Crawley in West Sussex, approximately 47.5 kilometres (29.5 miles) from Central London.
One of the busiest routes to and from Gatwick is Amsterdam, according to the UK's Civil Aviation Authority. British Airways and easyJet offer direct flights between London Gatwick and Amsterdam Airport Schiphol (AMS). These non-stop flights are typically around 90 minutes.
Flights with British Airways
British Airways operates non-stop flights to Amsterdam Airport Schiphol. Flights operate from Gatwick's South Terminal. Up to three flights each day are available throughout the year.
The flight from London Gatwick to Amsterdam lasts from 1 hour and 20 minutes to 1 hour and 35 minutes. The return flight to the United Kingdom is about 1 hour and 20 minutes from Amsterdam. The duration of the flight depends on the time of day, with the airline factoring potential delays during busier times of the day.
Flights with British Airways are generally on Airbus A320 aircraft. Club Europe and Euro Traveller seating are available on these planes. Club Europe is British Airways' business class product on European flights, while Euro Traveller is its economy class service.
> Check out the best hotels for cheap prices in Amsterdam
Flights with easyJet
Low-cost airline easyJet operates up to 7 flights to Amsterdam each day from Gatwick Airport. These non-stop flights arrive and depart from the airport's North Terminal.
From London Gatwick to Amsterdam, easyJet flights are between 1 hour and 15 minutes and 1 hour and 20 minutes. Flights from Amsterdam to London Gatwick last from 1 hour and 20 minutes to 1 hour and 25 minutes. The flight duration depends on the time of the day. Potential delays during busier periods are factored into the airline's estimates.
easyJet's Airbus A319 and A320 aircraft are generally used on the route. These planes feature one class, although seating with extra leg room is available with an extra fee.
Did you find it interesting? Help us out and give us some social love 
 Thank you